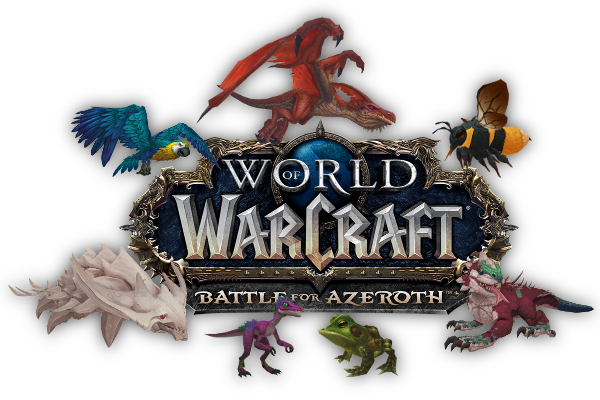 New Pets in Battle for Azeroth
Below are all the exciting new tameable looks of Battle for Azeroth! Click on, or mouse-over, an image to see the tameable creatures with that appearance.
Note that this information is based on the Beta test, and it's inevitable that some things have changed. If you find errors, or have pets to add, please let us know on our forums or email us.
A few notes:
All Battle for Azeroth hunter pet changes should now be in effect! See our BfA pet changes page for full details.
For a list that includes untameable appearances, see our Upcoming BfA looks page for other models.
Not everything was flagged tameable that could be. Most noticeably, skyscreamers and zhevras cannot be tamed. We expect more tames - possibly including the aforementioned, as well as some missing colours of the models below - in a later patch, but we do not have a date for that.
Some things appear to have been placed in the wrong family - notably a few parrots and albatrosses. We believe this will be fixed in a later patch.
In addition to the new tames below, remember that a lot of older models have received graphical updates. See our model updates page.
There are currently some appearance bugs that we know Blizzard are working on fixes for, including the fact that Karkin (the black gem crab) currently has the wrong appearance. These will be fixed in a future patch.
We also believe that a future patch will re-introduce some of the replaced appearances (we assume on new NPCs, but we're unsure of the details), for hunters that prefer them.
---
---
---
These strange, one-eyed, tentacled crawlers might be at home in either the Beetle or Silithid family.
---
This sleek falcon shares part of its model with the hawk, but it has a slimmer build. Its stunning textures are based on real-world falcon species! It can also use the skins created for the new hawk.
This hawk shares part of its model with the falcon, but it has a heavier head. Its textures are based on real-world hawk species, but it can also use the skins created for the new falcon.
This gorgeous parrot model currently only comes in a few colours. Hopefully more will be added and it'll be used to replace the original model entirely.
---
These savage, flying ticks are the popular companions of Blood Troll hunters.
The corrupted spawn of the toad loa Krag'wa, perhaps you can redeem one of these ugly beauties!
---
---
---
Most, but not all, panthara require a trick to tame. Farm up some Fresh Talbuk Meat which is drops rarely from talbuks on Argus; approach your target; throw a Freezing Trap; Feign Death to lose aggro (this is essential for the meat to work); throw the meat directly on top of the panthara; tame quickly!
Panthara that do not require this trick are Naroua, Sabuul, and the Shadow Stalkers in The Seat of the Triumvirate dungeon.
---
---
---
A high-quality update for the old crab model, including a bunch of bright new colours.
A fun addition for the crab family, the hermit crab shares all the same colours as the regular crab model, combined with eight possible shell patterns. This means there are currently 176 potential looks, but for the sake of space we only display the plain shell in the Unused Looks section.
A slender and spiky crab with a unique look.
---
There are five devilsaur colours and five armour colours, resulting in 25 potential look combos! Sadly, only a few exist on beasts and none are yet tameable.
---
---
---
The updated gryphon model is finally tameable in Battle for Azeroth. Four new colours are being added in this expansion, all variations on grey. The brown skin was added in Pandaria.
---
---
---
---
---
---
Finally tameable in Battle for Azeroth, diemetradons have received a model update at the same time!
This formidable lizard, often called a 'saurolisk', comes in a huge range of bright colours.
These wild, amphibious pack hunters were created from wolves by Professor Elryna of the Highborne, many millennia ago.
---
If you tame five colours can you assemble Voltron?
This updated mechanical chicken model comes in a huge range of new colours.
---
---
This old model could well be replaced by the new one added in Battle for Azeroth, but it hasn't been yet.
A gorgeous updated pterrordax, found primarily in Zandalar.
Added in Mists of Pandaria, these pterodactyl relatives are native to the Isle of Thunder.
---
---
A lovely new raptor model with a feathery mane and tail. It's less likely that the undead version will be tameable, but we're including it here for completeness.
These sleek, theropods look cute and blood-thirsty at the same time!
---
Amphibious rays that commonly inhabit the ocean depths.
---
A new river beast that looks more like a traditional hippo!
---
This stocky reptilian is the wild beast version of the Zandalari guardian druid form.
---
Despite their aquatic appearance these serpents can fly.
A wicked cobra model, introduced in Battle for Azeroth.
---
A new form of silithid that emerged after the destruction of Silithus.
---
---
---
---
---
This toad is a natural/"non-loa" variation of the toad loa model.
First spotted in Pandaria, these toxic amphibians have been the death of many an adventurer.
---
Tentacled wasp-like creatures, they might fit with Wasps, or in a family of their own.
This cute bee model was introduced in Kul Tiras.
A wicked new wasp, with a body that resembles the "hook wasps" from Draenor, but with a more traditionally wasp-like head.
---
---
---
These electrified worms are used by the Naga as guardians.