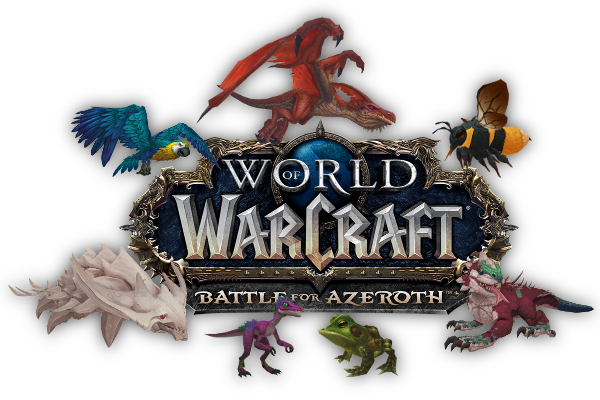 Hunter Pet Changes in Battle for Azeroth
Aside introducing from exciting new pets, Battle for Azeroth also brings some substantial changes to pet families:
Pet appearances
There are well over 100 new pet looks to tame! That's not including model updates for existing pets. And we suspect there are more on their way! See our Upcoming Models and Looks page for a comprehensive list
At least 13 older old pet models are receiving updates. See our Updated Pet Models page for a full list of appearance changes.
Pet families
There are four exciting new pet families: Lizards, Toads, Pterrordaxes (Exotic), and Krolusks (Exotic).
Dreamrunners are now tameable as Stags.Dreamrunners and Pterrordaxes were the fan favourites!
Exotic families aren't tameable by Beast Masters until level 65 (up from 10!) The ability Exotic Beasts has been moved to a much higher level.
Pet family core abilities have been updated and standardized. Each family has been given one uniquely-named ability from a pool of six different ability types.
See our Pet Family Abilities page for reference tables of the new family abilities.The page includes a cross-reference of family core ability types vs spec, so you can pick your ideal combination.
See our Pet Family Specializations page for details on how the specs look in BfA.Each spec offers two unique abilities.
Pet families are now locked to a single specialization. You may no longer switch your pet to a different spec. But don't panic! All three pet specializations should be viable for solo play and should be competitive in most situations. In more serious raids you may need to choose a pet with abilities that suits your group. Tenacity is no longer synonymous with tanking, and you shouldn't be scared of using a Tenacity pet in non-tanking situations.
Other changes
Our pet stable size has increased! 10 new slots were added, bringing the total pets we can own to 65.
As a Beast Master, you can choose to adventure with two pets out. Hati is being retired, but you may choose the level 15 talent Animal Companion; this summons a second pet from your stable which functions in a similar way to Hati. See also Wowhead's BfA talent calculators for Hunters: Beast Mastery, Marksmanship, Survival.
Growl is now automatically switched off when you enter a dungeon. No more accidentally stealing aggro from your tank!