Amber Shale Worm
There are 6 tameable creatures with this look.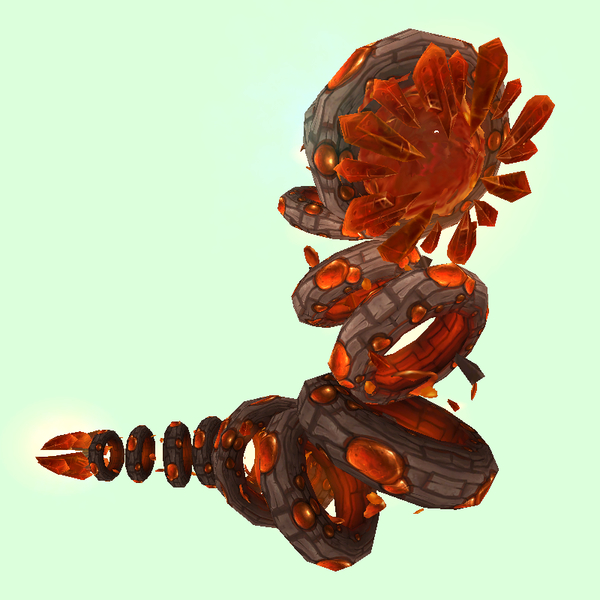 Exotic Family
Can only be used by Beast Mastery hunters that have reached level 10.
Shale Beasts
Level
Location

30-35


Elite
The Briny Muck, Dread Wastes
Retains its original name after taming.
Only present when the Dread Wastes daily questing hub is set in Zan'vess (approximately every three days).

35
Spawned
Elite
Chamber of the Paragons, Siege of Orgrimmar (Raid)
Will spawn during Paragons fight if Rikkal's Injection spell is not mitigated by tanks.

35
Zan'vess, Dread Wastes

35
Rikkitun Village surrounds, Dread Wastes

<Terror of the Dread Wastes>

35
Spawned
Elite
Gao-Ran Battlefront, Townlong Steppes
Retains its original name after taming.
Appears at the end of the zone quest Cutting the Swarm as the objective the follow-up quest Terror of the Dread Wastes. If you have trouble getting aggro from the Gao-Ran troops, wait until it submerges then tame quickly when it surfaces again.

50
Spawned
Jagged Wastes, Deepholm
This gyreworm is available to Blacksmiths only. It spawns during the Blacksmithing quest An Ear to the Ground, which becomes available from your BfA Blacksmithing trainer when you reach a skill of 150 in Battle for Azeroth Blacksmithing. While the quest is in an open area, it appears to be phased so that only the quester can see the worms.
Level scaling: Most NPCs will scale with the Hunter's level, within the constraints of their level range. Hunters can tame regular NPCs up to 2 levels higher than them, but can only tame elite NPCs of the hunter's level or below.