Brown Python
There are 8 tameable creatures with this look.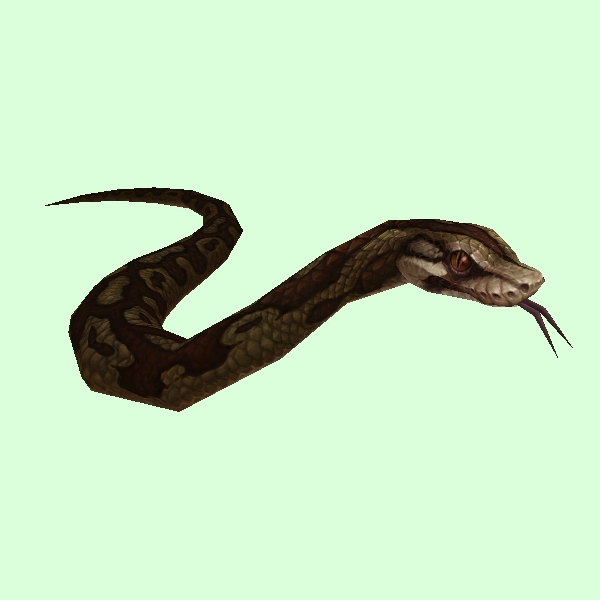 Serpents
Level
Location

35
Spawned
Elite
Grand Overlook, Throne of Thunder (Raid)
Found in the area directly after the first boss. Spawns when you run over patches of grass in the south-east and south-west corners of the platform.

35
Elite
Timeless Isle
Found in a number of places in the lower areas of the island.

40
Elite
Nagrand - Draenor
Found in the swampy areas south and west of Mok'gol Watchpost, in western Nagrand.

40
Zorammarsh, Tanaan Jungle
Found in the south of the area, by the waterfall in the sea.

40
Zorammarsh, Tanaan Jungle

48-50


Spawned
Port of Zem'lan, Vol'dun
Spawns when you click on a Hissing Crate which can be found at the back of an alcove in the middle of the Port area, right next to Jammo.

49-50

Natha'vor, Nazmir
Found in the swamps north of the Necropolis, south-west of Torga's Rest.

49-50

Vol'dun
In the mountains in the south-east of the zone, on a rise south-east of Verdant Plateau. Killing all of the Pit Snakes causes Vathikur to rise.
Level scaling: In Shadowlands most NPCs will scale with the Hunter's level, within the constraints of their level range. Hunters can tame regular NPCs up to 2 levels higher than them, but can only tame elite NPCs of the hunter's level or below.
Matching Companion Pets

Death Adder Hatchling