Grey-Bronze Mechanical Spider
There are 9 tameable creatures with this look...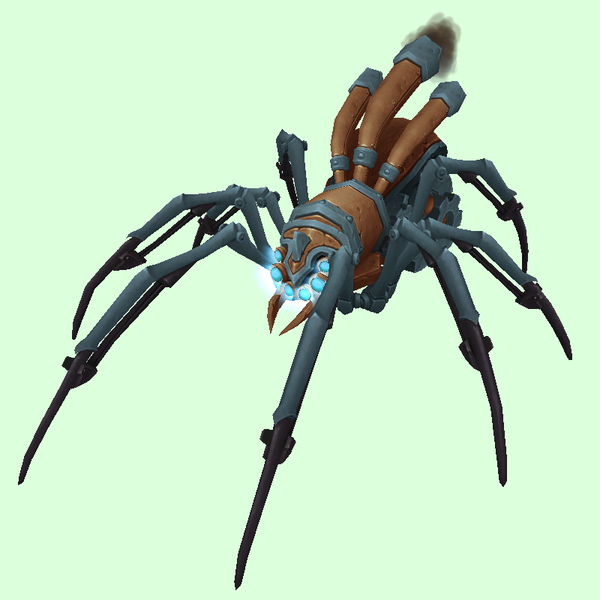 Special Skill Required : Gnome, Goblin and Mechagnome Hunters can tame Mechanicals by default. Other races must gain the ability from a Mecha-Bond Imprint Matrix, crafted by Engineers who have at least 1 skill point in Legion Engineering.
Mechanicals
Level
Location

110
Elite
Alcaz Island, Dustwallow Marsh
Located in an underground cell. Obtain an Electrified Key by defeating Doctor Weavil in order to interact with this NPC. The arachnodrone must be reduced to 30% health before it can be tamed.

120
Mechagon
The Abducted Motospider is a chance spawn when you attempt to rescue abductees from a Mechagon Containment Crate during the quest Abduction Reduction.

120
Prospectus Bay, Mechagon

120
Sparkweaver Point, Mechagon

120
Sparkweaver Point, Mechagon
Wanders the area in packs.

120
Spawned
Sparkweaver Point, Mechagon
Spawned by destroying Motospider Eggs.

120
Spawned
Sparkweaver Point, Mechagon
Spawns during combat with the rare NPC, Mecharantula.

120
Sparkweaver Point, Mechagon
Spawns when the daily Bugs, Lot of 'Em! is available. Also found in the alternate timeline phase of Mechagon, which is accessible on days when Chromie is present in Rustbolt, or by activating a Personal Time Displacer.

121
Rare
Sparkweaver Point, Mechagon
Retains its original name after taming.
A proper rare spawn that only appears occasionally.
Matching Companion Pets

Rebuilt Mechanical Spider