Grey Goat
There are 9 tameable creatures with this look.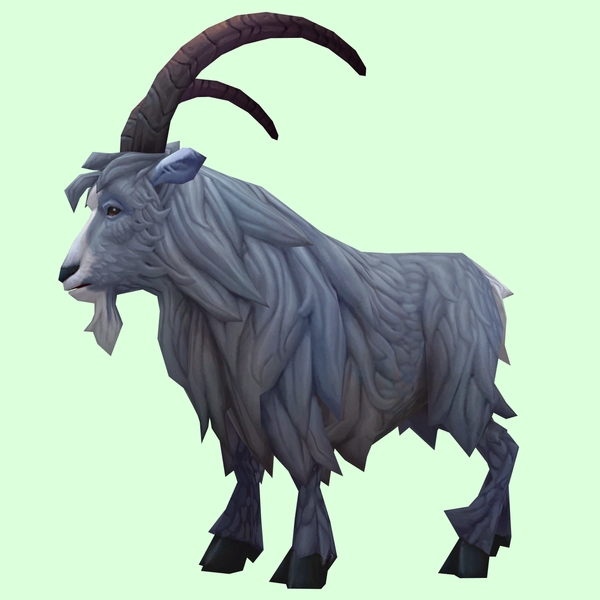 Gruffhorns
Level
Location

2-5

Abandoned Camp, Exile's Reach
Appears to phase out during an advanced stage of the zone quest chain, but can be viewed and tamed from the very edge of Quilboar Briarpatch.

2-10

Exile's Reach
Found on the slopes just west of Harpy Roost.

10-45

Highmountain
Makes sounds when clicked.
Located in mountains in the south-east of the zone. The grey version of this goat doesn't make sounds when clicked.

10-45

Nastrondir, Stormheim
Makes sounds when clicked.

20-35


Rare
Elite
Kun-Lai Summit
Retains its original name after taming.
Makes sounds when clicked.
See this video for tracking information.

25-50

Drustvar
East of Gol Koval.

35-50

Stormsong Valley
In the southern areas of the zone.

35-50

Sprucewood, Stormsong Valley
The Mountain Goat with this ID is carried by an Ettin Stoneflinger. The ettin will drop the goat if attacked, or if it decides to attack another NPC (which happens often), and the goat will flee to the west. It's possible to tame the goat before it despawns, but you must be extremely quick. It's best to wait by the path to the west of the ettin and target the goat as soon as the ettin drops it and decides to attacks something else.

35-50

Stormsong Valley
Various areas of the zone.
Level scaling: In Shadowlands most NPCs will scale with the Hunter's level, within the constraints of their level range. Hunters can tame regular NPCs up to 2 levels higher than them, but can only tame elite NPCs of the hunter's level or below.