Grey Skeletal Devilsaur
There are 6 tameable creatures with this look.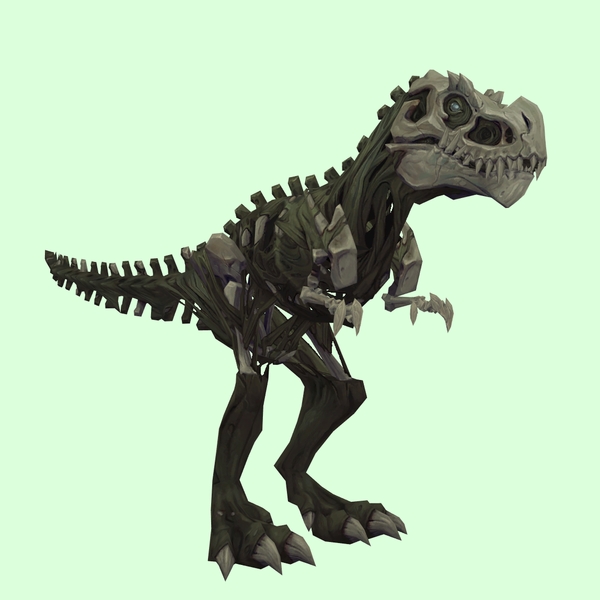 Exotic Family
Can only be used by hunters in the Beast Mastery spec. Minimum level 10 in Dragonflight.

Undead Taming
Forsaken hunters automatically know how to tame undead creatures. Hunters of other races must learn the skill from a
Simple Tome of Bone-Binding
which is a rare drop from miscellaneous Elite NPCs throughout Maldraxxus and its associated dungeons: Plaguefall and the Theater of Pain.
Devilsaurs
Level
Location

49-50


Elite
Zul'Nazman, Nazmir
Patrols outside the Heart of Darkness.

49-50


Elite
The Fallen Outpost, Nazmir
These undead beasts are being ridden by Blood Troll Warmothers. Some are scripted to run along the path towards Zuldazar then despawn, while others linger at the back.

49-50


Elite
Urok's Lair, Nazmir
Retains its original name after taming.
Found in a cave on the western side of the Primal Wetlands, in the south-west of the zone.

50
Elite
Zuldazar
Siege Monstrosities with this ID appear during the Horde-only phased quest, Zandalar Forever!. You have to dismount to tame it. To be eligible for this quest you have to complete the quest chains for all three zones of Zandalar and then complete the Bulwark of Torcali quest in Zuldazar.

51
Rare
Elite
Lair of Rezan, Zuldazar
Retains its original name after taming.
In a cave at the back of the Temple of Rezan. Only present on days when the world quest Twisted Child of Rezan is active.

60
Elite
The Necropolis, Nazmir
Night Fae-only. Found during the Night Fae Chapter, "Deal for a Loa".
Level scaling: Most NPCs will scale with the Hunter's level, within the constraints of their level range. Hunters can tame regular NPCs up to 2 levels higher than them, but can only tame elite NPCs of the hunter's level or below.