Taming Feathermanes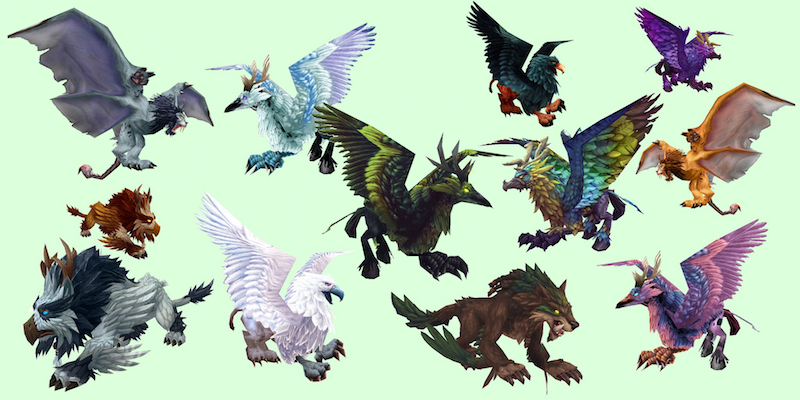 Feathermanes are a tameable family of winged 'hybrid' beasts, introduced in Patch 7.2. Members of the family include gryphons, hippogryphs, owlcats, wolfhawks and wind riders (also known as 'wyverns').
As a Hunter, how can I tame Feathermanes?
Feathermanes aren't instantly tameable - you have to earn the privilege! Here's what you need to achieve first:
The Power Ascended pre-requisite was removed in Battle for Azeroth, as artifacts can no longer be levelled.
Since Battle for Azeroth, you can purchase this as any spec - not just Beast Mastery.
You must have completed the Order campaign for Hunters, leading to the achievement A Glorious Campaign, and then the Legionfall quest campaign, leading to the achievement Breaching the Tomb. The Legionfall campaign will not progress very far until you've completed the Order campaign.
You must then complete a short scenario, Night of the Wilds, to earn your new Hunter class mount - the Loyal Wolfhawk.
Once the above criteria above have been met you may purchase a Tome of the Hybrid Beast from Pan the Kind Hand at the stables in Trueshot Lodge for 1000 Order Resources. The tome teaches the ability Hybrid Kinship.
What about my Hunter alts? Do I have to repeat this every time?
No! The Tome is Bind on Account. You have to learn the ability separately on each Hunter, but once you've unlocked it on one you may buy additional copies to send to the others.
Are there level restrictions for taming Feathermanes?
You must be 45 to learn the ability.
Are there Hunter specialization restrictions for taming and using Feathermanes?
No. Any spec may tame and use Feathermanes. Originally you had to be in Beast Mastery spec to purchase the tome but that changed in Battle for Azeroth.